About Lois Olena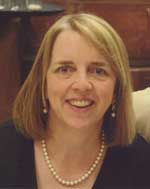 An ordained minister with the Assemblies of God, Lois has a Master of Arts in Jewish Studies from Gratz College in Philadelphia and a D.Min. from the Assemblies of God Theological Seminary (where she also currently serves as Associate Professor of Practical Theology and Jewish Studies and D.Min. Project Coordinator). From 2011-2016, she served as Executive Director of the Society for Pentecostal Studies, being the first female to hold that post.

Her doctoral dissertation is entitled, "Pentecostals and the New Anti-Semitism: Walking in the Fruit and Fullness of the Spirit for the Sake of the Jewish People" (available through ProQuest).

She also serves as an adjunct instructor in Theology and Jewish Studies at Evangel University.

Lois' interest in Jewish Studies began at the end of her undergraduate work many years ago, when she took a course in Jewish-Christian Relations. "I knew I wanted to go on to do graduate work, but it was only after that class that I really felt directed toward Jewish Studies. So many things about my own spiritual heritage became more clear when understanding Christianity in the historical context of first-century Judaism. Also, having become aware of the terrible legacy of Christian anti-Semitism, I felt responsible to help Christians become increasingly mindful not only of their 'Jewish roots,' but also of Jewish-Christian history in order to take active steps in our day to prevent a repeat of anti-Jewish sentiment and behavior."

In 1989 the late Holocaust Historian Dr. Nora Levin asked Lois to assist Gratz College's Holocaust Oral History Archive in their effort to preserve first-hand oral testimonies from the Holocaust era. Over the next ten years, Lois transcribed over 500 survivor, liberator, and witness interviews, one hundred of which are in the oral history collection of the United States Holocaust Memorial Museum in Washington, DC.

She has published Holocaust curricula and poetry, edited a number of books, and published papers and articles. Due to her interest in Pentecostal history, she wrote a chapter on Assemblies of God race relations in a book entitled, We've Come This Far and in 2009 wrote her first book, Stanley M. Horton: Shaper of Pentecostal Theology.

She and her husband Doug have two grown daughters.
Website © Copyright 2004- Lois E. Olena & Keystrokes